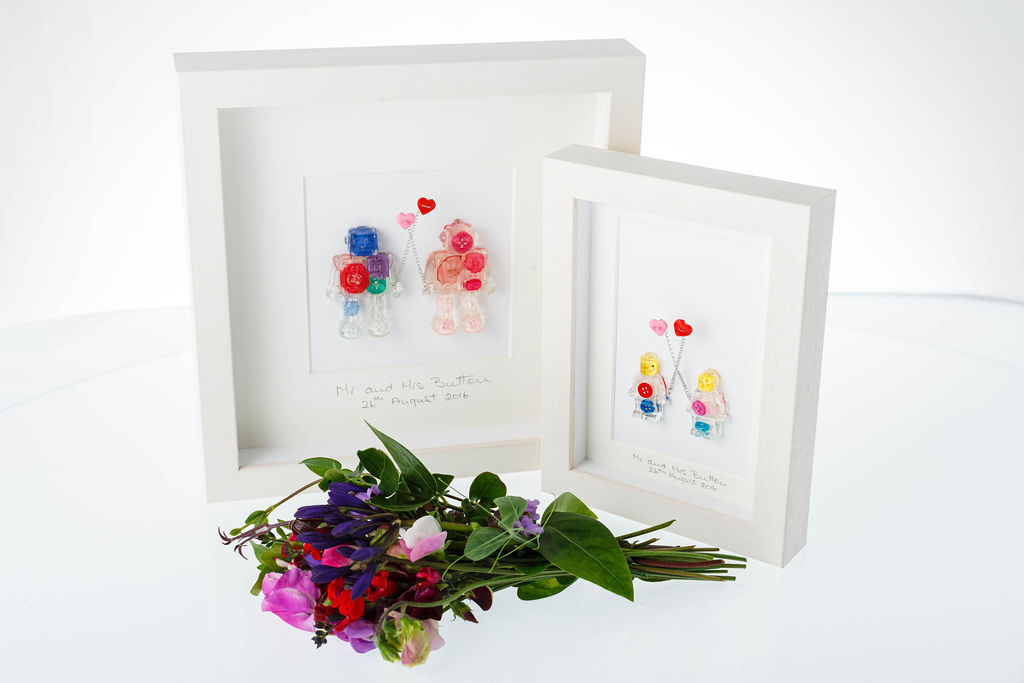 It is most definitely wedding session, and it is so lovely to see weddings back with a bang: so many beautiful brides and big family celebrations.
I have always found it very interesting the traditions of a wedding and the routine of the day and the effort the bride and groom go to, to make it a special day for everyone. So I think it is nice to try putting some of that thought, energy, and love into the gift you will give to the happy couple.
We are all leaning towards the cash-in-the-envelope solution but that does not mark the day, it helps no doubt but a handmade piece with custom names of the bride and groom and their unique wedding date and even the venue serves as a lovely memento to the happy day.
The two most popular pieces currently are the Mr and Mrs customised pieces. The medium has a female and a Male robot handmade from reclaimed buttons and resin and set with two spring-mounted hearts.  A nod to the tradition but a jump forward in design.  I can add the couple's new married name, we could just do their first names and the date of the wedding.
I can of course make same-sex couples and have done many fab Mr and Mr pieces or Mrs and Mrs or Him and Her or Him and they ! really whatever you like I can make, the more custom and personal the better it will be.
The small Mr and Mrs is a handmade piece made with a nod to childhood brick people called Le go ! don't want to get in trouble with the trademark people but you get the idea! Fun and creative a thoughtful personalised gift.
The normal lead time for custom pieces is 3-4 days but always try and give me as much time as you can as this session is very busy and I have yet to let anyone down, I don't want to break that record!
Celebrate love , it really is a vital and important part of who we are and how our lives turn out.